In our latest Sudan Insider, we provide news and analysis on the recent ceasefire declaration in the Nuba Mountains, changes in Yida, South Sudan, for Nuba refugees, the crackdown on civil society in Khartoum, and the deportation of Eritreans by Sudan amid changing EU relations on migration.
To receive these in your inbox, subscribe to the monthly update.
Politics and Peace in the Nuba Mountains
What happened…
Sudan's President Omar Bashir on June 17 declared a four-month unilateral ceasefire between the government and rebels in South Kordofan and Blue Nile states, the third declared in less than a year. The ceasefire aligns with the rainy season where muddy roads immobilize both warring parties' movements.
The declaration takes place after armed rebel groups, including the Sudan People's Liberation Movement / Army – North (SPLM/A – N), requested a six-month ceasefire on April 28, but was rejected by Khartoum. Instead, May saw some of the fiercest fighting since the conflict began.
The government's ceasefire comes after they were able to take two towns near the regions most fertile agricultural areas – Al Azrak and Mardes.
SPLM-N Spokesman Yasir Arman on June 18 called upon the ruling party to dispatch a delegation to Ethiopia's capital, Addis Ababa, to iron out differences in the African Union High-Level Implementation Panel (AUHIP)-brokered roadmap for peace. Opposition forces met in Addis Ababa with U.S. Special Envoy to Sudan, Donald Booth, on June 16–17 and agreed to sign the AU-led peace deal as long as supplementary conditions are met. On June 19, the government refused to resume peace talks without the opposition signing the roadmap in its current form.
Previously, the opposition refused to sign the AU-brokered roadmap agreement during March 19 peace talks in Addis Ababa. Only the AU chief negotiator, Thabo Mbeki, and the Sudan government signed the document. The opposition forces said the roadmap agreement excludes key opposition groups, acknowledges a government-controlled dialogue process and ignores confidence-building measures such as ensuring political freedoms and the release of political prisoners and detainees.
Plans in June to transfer 22 detained government soldiers from rebel-controlled areas in South Kordofan and Blue Nile through to Khartoum remain stalled for unclear reasons. The transfer marks the first of its kind since the war began in June 2011.
Up to the declared ceasefire, bombing and ground fighting took place in the Two Areas, South Kordofan and Blue Niles states. On June 1, the SPLA-N and government forces battled in Kilgu, Bau County, Blue Nile with disputed claims of victory from both sides. Conflict appears set to continue in the Blue Nile region after the government dispatched hundreds of Rapid Support Force militia on May 31 to the government-controlled capital, Ed-Damazin.
Heavy shelling continued around Al Azrak, Heiban County, up until the ceasefire announcement. On June 3 rebels repulsed a second government convoy that attempted to reinforce soldiers based in the key agricultural region. Intense shelling from June 5–6 took place between the two sides but the government forces remain intact in the area.
On June 14, fighting took place in Mardes, Delami County in South Kordofan, representing another major agricultural area where government forces have set up a garrison force. At least 24 rebel soldiers were admitted to Gidel Hospital, Heiban County from the conflict.
What it means…
President Bashir tends to issue ceasefires declarations when it suits him politically and militarily. The SPLM-N was not officially informed of the ceasefire, hearing it only through media reports, SPLM-N Spokesman Arno Ngutulu said. The latest ceasefire announcement also appears a moot edict since it will take place over the rainy season when the conflict generally subsides due to muddy, intractable roads.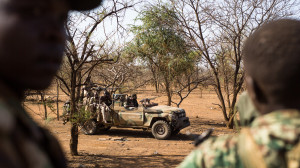 The last ceasefire the Sudanese president announced was largely considered a tactic to allow the Sudan Armed Forces time to prepare a mass seven-prong offensive against the rebels in late March – rather than a genuine peace effort.
Government soldiers are still based in the agriculturally fertile areas of Al Azrak, Heiban County and Mardes, Delami County in the rebel-controlled territory despite the increasing rains. This may mean these forces will remain in the area throughout the year, blocking crucial harvests that supply the civilians and the rebels from both counties and preventing roughly 40,000 inhabitants of Al Azrak and Mardes from returning home.
The latest impasse – with the opposition agreeing to sign the AU-brokered peace deal with additional conditions attached and the government refusing further negotiation to the document – means an agreement over humanitarian access remains stalled. By linking political and military issues to humanitarian access, over 200,000 people in South Kordofan may suffer from food insecurity, according to an April report by the Food Security Monitoring Unit, an organization that monitors humanitarian needs in the region.
While the AU-brokered roadmap peace agreement was strongly endorsed by the international community – including the UN, AU, EU and US administration – the agreement does not give singular priority to humanitarian access, nor does it offer a clear plan for how such access is to be achieved.
Big Changes in Yida, South Sudan – Home to Nuba Refugees
What happened…
Nuba refugees in Yida, South Sudan, are faced with difficult decisions this month, as UNHCR and SPLM leaders have announced in several forums that UN services at Yida will end after June 30 and the informal camp will only act as a transit / registration center moving forward. Do they stay or go? And if they go, will it be to other camps or back to the war zone?
Yida is home to roughly 70,000 registered refugees who have fled the five-year conflict in the Nuba Mountains to Yida, Ruweng State (formerly Unity State), South Sudan. The number of refugees is probably closer to 100,000 since many Yida residents are not registered.
Despite the announcement, more than 7,500 refugees arrived in Yida this year, according to the UN refugee agency. Around 3,000 of this number arrived in May alone and nearly 90% of these new arrivals are women and children. One child in every ten is alone or without family members. New arrivals are transported to Ajuong Thok, a camp established in 2013. While registration at Yida continues, food rations are only provided to newcomers if they relocate to Ajuong Thok Camp.
The alternative refugee camp, Ajuong Thok, has already reached capacity with 46,000 people in June, according to the UN. A new camp is underway at Pamir but yet to be completed. Severe budget cuts for UN's South Sudan operations have cut service delivery such as water and education. Water availability from Ajuong Thok has dropped from 19 liters per day to 16 and classrooms now have over 100 students in them. Another camp, Pamir, is expected to host roughly 54,000 refugees once complete.
The reason for relocation? The UN claims the Yida camp, created by Nuba refugees in 2011, is compromised: It is based too close to a conflict zone, officials say, and acts as a recruitment centre by the rebel Sudan People's Liberation Army-North (SPLA-N). But Yida residents deny this, including the Yida Refugee Council Chairman Nour Al-Salih, who say the SPLA-N were forced out of the camp in October last year.
What it means…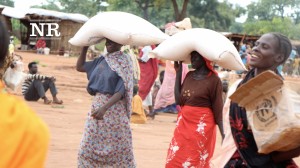 Yida residents are reluctant to relocate having set up livelihoods in Yida, now host to the largest market in Ruweng State. Residents also have security concerns regarding the new camps: Ajuong Thok is 17km away from proxy militias used by the Sudan government and less than 45 km away from a Sudan Armed Forces garrison. Pamir is located near nomadic militias used by the Sudan government and former South Sudan rebels.
Yida residents have also cited livelihood concerns. Unlike in Yida, where refugees can farm and set up businesses outside of the camp, refugees in Ajuong Thok are not allowed past camp boundaries and must rely entirely on food rations provided within the camp. Yida residents say they rely on their farming and other businesses to survive due to World Food Program (WFP) budget cuts from August 2015. For instance, Yida residents used to receive roughly 12kg of grain per month before these cuts, now it is 8kg.
There may be another reason Yida residents are wary of the UN directive: past experience. In 2012, UNHCR had Yida residents (then 30,000) relocate to another camp in Nyeli. Yida residents warned the UN that Nyeli is prone to flooding and would not be suitable. This warning was ignored and Yida residents who relocated to Nyeli had to return to Yida due to flooding, making the camp uninhabitable.
UNHCR claims they are acting on request of the South Sudan government. The host government is under pressure from Sudan to end any support of the SPLA-N rebels and disband Yida since the camp is perceived by Sudan as a support base for SPLA-N families and de-commissioned soldiers. South Sudan needs better economic ties to improve trade and ensure oil exports with Sudan and may be under considerable economic restraint / political pressure to block any perceived support given to the SPLA-N.
Khartoum Cracks Down on Civil Society
What happened…
The National Intelligence and Security Service (NISS) on June 11 raided the home of the director of a local training and development organization, the Centre for Training and Human Development (TRACKS). The NISS agents seized printed material and family savings from TRACKS Director Khalaf-Allah Al-Afif, according to a statement.
A criminal court in Khartoum on June 8 held a preliminary session against Adil Bakheit, a human rights trainer and four other staff-members of TRACKS. The session was postponed since the director of the Centre remains currently detained.
In May, Khartoum state security arrested eight staff members of the Centre in the capital, Khartoum. Five were released on bail on May 30, June 5 and 6, respectively. Two staff members – Midhat Afifi and Khalaf-Allah Al-Afif – remain detained at the State Security Prosecution Office in Amarat along with Mustafa Adam, the director of Al-Zarqa Rural Development Organization, who was arrested simply for visiting the centre during the raid. Authorities are charging the civil society members with a number of articles including: undermining the constitutional system, waging war against the state and forging documents. These collective charges could lead to the death penalty.
Several opposition alliances and civil society organizations issued a statement condemning the ongoing harassment of TRACKS employees and called on the judiciary to act independently from the national security organs.
The targeting of TRACKS is only the latest in a string of intimidation exercises conducted by authorities against the centre. Security forces raided the centre on February 29, seized employee laptops and personal belongings. National security had previously raided TRACKS in March 2015 and filed charges against its officials but a court in Khartoum dismissed the charges. The case was re-opened, however, after the February 2016 raid and now the Centre's director and Adil Bakheit face charges of "undermining the constitutional system." Their trial is set to resume in the near future. Authorities launched a second legal case that includes charges such as "waging war against the state" and espionage immediately after the February raid.
What it means…
The crackdown on Sudanese civil society organizations (CSOs) has been ongoing since the International Criminal Court (ICC) indicted the Sudanese president in 2009. As a result, several national and international organizations have been shut down, accused by authorities of spreading information that led to the president's indictment.
Since 2012, dozens of Sudanese CSOs have been shut down by the national security. In December 2012 alone, authorities shuttered three prominent CSOs and in June 2014, Salmmah Women's Resource Center was closed after more than 17 years of operation.
The increased targeting of TRACKS may reflect the state's harsher stance toward civil society after nationwide student protests took place in April. After suspected state security and affiliated pro-government students killed two university students in two separate incidents, at least 11 universities erupted in protest, sparking mass arrests of demonstrators. Although authorities have released many of those detained recently, the widespread protests may have triggered security organs to target university students and civil society organizations alike in recent weeks.
The crackdown on TRACKS is significant given the number of staff detained and harsh charges placed against them. The repeated raids and charges will cast a pall over operations of other Sudanese CSOs, fearing they will face a similar fate. Donor organizations may also curb support fearing funds will be confiscated by the security apparatus.
Sudan and the European Union versus Refugees?
What happened…
Sudan has deported hundreds of Eritrean refugees – at least 442 Eritreans as of May 30 – and denied the UN refugee agency access to them. While conducting this mass deportation, Sudan hosted a conference organized by the European Union on the issue of managing migration in the Horn of Africa.
In 2014, the EU began a partnership with African countries that produce and host migrant/refugee populations that seek passage to Europe. By 2015, the EU pledged 100 million Euros to assist Sudan in curbing migration to Europe. This funding will ostensibly build "refugee camps" inside Sudan and equip them to prevent refugees from leaving.
Early this month, Sudan announced that it had arrested the leader of one of the largest trafficking rings. The Italian police force estimates that he had sent 10,000 people on the Libya-Italy route over the past few years, however, hours after the news broke, it became clear that the wrong person was arrested. Authorities arrested Medhane Tesfamariam, an impoverished Eritrean refugee who has been in Sudan less than two years while Medhane Mered, the actual trafficker, is still at large, according to Eritrean activists.
What it means…
The deportation of Eritreans will undoubtedly lead to mass arrests and forced conscription for the returnees back home – the very reason the Eritrean refugees fled the country in the first place. Eritrean activists claim many of those caught for fleeing into exile are currently held in an underground prison inside the country. By deporting refugees to countries where they are likely to suffer, Sudan has proven that it will not respect any international obligation or process.
EU funds to Sudan to curb refugee migration take place while the state continues to increase internal displacement, largely through the two civil conflicts taking place in Darfur and the Two Areas: South Kordofan and Blue Nile states. Sudan has one of the largest internally displaced persons (IDPs) populations in the world and produces tens of thousands of refugees annually. Currently, at least a quarter of a million Sudanese refugees are in South Sudanese camps.
According to the EU Commissioner, funds will also be provided to civil society organizations to support refugee projects. The same organizations, however, fear authorities – especially the security apparatus – will manipulate the process and control these funds. The state is already in control of the migration process. A 2014 Human Rights Watch report, for instance, implicated the police force in human trafficking rings.
Anti-immigration has become a strong political tool in Europe and may explain the region's softened stance towards the Sudanese government, including political support vis-à-vis the Nuba Mountains conflict. European countries strongly support the peace process between Khartoum and the SPLM-N and appear determined for the latter to sign a peace deal on the government's terms.
Subscribe to receive the Sudan Insider in your inbox every month.
Cover photo by: Roopa Gogineni